advertising or awareness campaign?
HOW TO DESCRIBE AN ANALYZE AN AD IN ENGLISH
I/ Identification ? This is an advertisement for… Information about the product when possible. ? Origin of the document (magazine, newspaper etc.): country, author, time … ? General topic (in a few words)
II/ Structure and description ?
Structure of the picture : study the diagonals, the horizontal/ vertical lines, the differences which may appear in the image ? Analysis of the different shots (high angle shots: plongée, low angle shots: contre-plongée) and the colours used ?
Description of each part (when, where, who, what, how)
Then, progressively add your personal interpretation.
Don't forget to thoroughly study the characters: the age group, their position, their clothes, attitude etc.
III/ Interpretation and analysis ?
Analysis of the catch phrase and the slogan when possible : size, words, grammatical structure, tone. ?
Target : age, sex, occupation, social class ?
Imagine the feelings of the different characters on the picture ?
When possible, link this picture to a historical or social context ?
Imagine what might have happened before and what might happen after ?
Goal of the ad : feelings, impact on the reader ? Express your personal opinion and reaction.
Has the ad reached its goal ? Do you or don't you like it ? Why ?
Useful Vocabulary when talking about an advertisement :
The catch phrase
The slogan
The caption
The logo
The brand name
The target
Verbs : to inform, to persuade, to convince, to promote, to entertain, to amuse, to influence people's attitudes and behaviour, to pass on a message, to shock, to surprise, to boost sales, to criticise the competition, to show, to prove, to make somebody aware, to represent, to imply, to involve, to convey, to emphasize, to highlight, to symbolize etc.
Expressions : This advertisement appeals to our feelings / our emotions / our intellect / our senses / our sense of humour / our paternal or maternal instincts / our desire to be in good health / our wish to be beautiful and desirable / our love for nature or animals / our desire for exoticism / etc.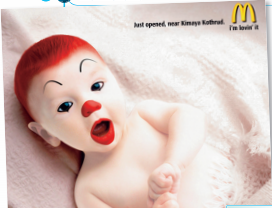 Document à imprimer sur les descriptions des 2 affiches vues en classe: